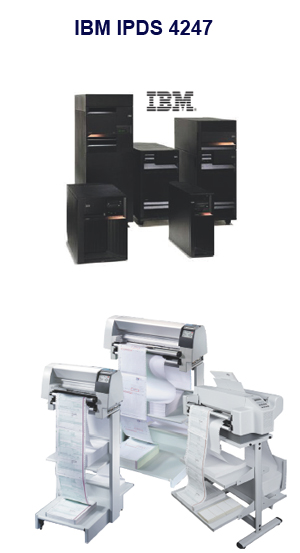 IBM is a Trademark of International Business Machines Corporation.
IBM 4247 Compatibility
PM IPDS Ethernet "Efficient Printing in IBM System Environments"
With the IPDS interface PSi printers PP 405, PP 407 and PP 408 as well as all models of the PP 80x family can be connected via Ethernet directly to the iSeries and zSeries (AS / 400) over TCP / IP.
Easy configuration via Internet browser, which allows a fully access to the configuration pages of the integrated HTTP server. Remote maintenance and diagnostics via Intra- and Internet are included as standard
The following data streams are supported:
IPDS (IBM 4247 compatible)
SCS (3268, 4212, 3287 compatible)
DCA (IBM 3812, 5219, 5226, 4234 compatible)
ASCII Data stream
TN3270e and TN5250e Writer emulation
In addition, the IBM 4247 interfaces have following features:
Multi Session / Multi-Protocol
Comprehensive paper management
High transmission and operational security
Bi-directional printer dialog
Fast processing of fonts, logos, images, etc.
Data stream manipulation (search and replace strings and characters).
Add start and stop strings
Management via Web browser
Auto configuration
Status reporting via Email
The IBM 4247 Interface also support the specific features of the corresponding printer model, such as input and output slots ECT.
For further questions, please contact one of our authorized sales partners or contact our PSi Matrix sales representatives directly. To do this, follow this "link"
Contact Sales PSi Matrix GmbH.
Our technical customer support is also at your disposal for technical questions or problem solving. To do this, follow this "link"